Resources for Bringing the Woodland Home:
Selected Materials to Assist with Planting a Shade Garden
by Laura Hartwell-Berlin
Note: This information was created to supplement the talk Roy Diblik gave in March, 2022. You can view his talk here: How to Add Native Shade Plants to Your Garden
Why Create a Woodland Garden:
In the essay "Building a Loving, Healthy Home for a Tree," Gerould Wilhelm reflects on current tree planting practices and encourages a different approach to tree planting. Wilhelm recommends providing a community of sedges, ephemerals, ferns and other woodland plants to provide healthy soil for the tree, habitat for critters, and to improve water retention. If you want to cut to the chase of his essay for a basic how-to, skip ahead to page 6.
Doug Tallamy, an entomologist at the University of Delaware and an Honorary Wild Ones Director, has communicated extensively on why to plant natives (including shade plantings). Here is a page providing links to multiple related resources on all things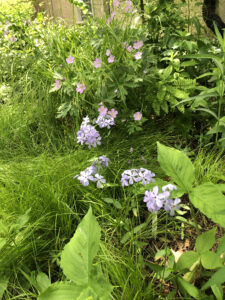 Tallamy from the Homegrown National Park website: Tallamy hub.
How to Create a Woodland Garden: Guides for choosing plants and designing garden beds:
Wild Ones: Wild Ones in conjunction with professional native landscape designers developed a set of garden designs that are freely available. There are garden designs available from nine different ecoregions of the United States. Many of these designs incorporate shade gardens. Wild Ones Native Garden Designs
West Cook Wild Ones: We have a Top 10 Shade plants list: Top 10 Native Plants for Shade
Heather Holm's excellent book, Pollinators of Native Plants: Attract, Observe and Identify Pollinators and Beneficial Insects with Native Plants, contains a chapter on planting for the woodland edge. One entire chapter identifies important shade plants for pollinators and has an appendix with garden layouts.
University of Illinois Extension Service in conjunction with National Oceanic and Atmospheric Administration (NOAA) and Purdue University offer brochures helpful for shade gardeners. These helpful brochures cover various moisture conditions and include plant choices and layouts:
Carex (Sedges)
Roy Diblik focused his presentation on using Carex (commonly known as sedges) as a green mulch or ground cover beneath trees instead of wood mulch. While Mr. Diblik recommends mowing the sedge annually in early spring, we recommend forgoing the annual mowing to preserve habitat for insects, pollinators and other small creatures. Mowing will chop up any creatures overwintering in the garden. Egad! We worked so hard to provide a home for them!
A mixture of sedges can be planted in the garden spaced 8-12 inches apart to provide a green groundcover. This is referred to as a matrix planting. You may then interplant other species within this matrix of sedges. We created the table below to help guide you in selecting sedges for your particular garden. The sedges are arranged by height and soil moisture requirements. Many sedges can thrive in a variety of conditions and may appear in more than one moisture condition. All of these sedges are for shade or part shade. Many of these sedges are commonly available at local plant sales and native plant nurseries. For more sedge information or to order try: Prairie Moon Nursery; Prairie Nursery, or WCWO Plant Sale.
Quick Reference Guide to Commonly Available Carex (Sedge) Species by Size and Moisture Requirements Carex Table (click link for table to render correctly)
Soil Moisture
Carex (Sedge) Height
up to 1 foot
1-2 feet
Dry

Carex brevior-

Plains Oval Sedge

Carex albicans

–

White-tinged Sedge

Carex eburnea

–

Ivory Sedge

Carex plantaginea

–

Plantain-leaved Sedge

Carex jamesii-

James' Sedge

Carex sprengelii

–

Long-beaked Sedge

Carex pensylvanica-

Common Oak Sedge/Pennsylvania Sedge

Carex rosea

–

Golden-Star Sedge/Curly-Styled Wood Sedge

Medium

Carex brevior-

Plains Oval Sedge

Carex albicans-

White-tinged Sedge

Carex bromoides

–

Brome-like Sedge

Carex amphibola-

Creek Sedge

Carex eburnea

–

Ivory Sedge

Carex blanda-

Common Wood Sedge

Carex pensylvanica

–

Common Oak Sedge/Pennsylvania Sedge

Carex plantaginea-

Plantain-leaved Sedge

Carex radiata

–

Eastern Star Sedge/Straight-Styled Wood Sedge

Carex shortiana

–

Short's Sedge

Carex rosea

–

Golden Star Sedge/Curly-Styled Wood Sedge

Carex sprengelii-

Long-Beaked Sedge

Moist

(Med-Wet)

Carex brevior

–

Plains Oval Sedge

Carex albicans

–

White-tinged Sedge

Carex bromoides

–

Brome-like Sedge

Carex amphibola

–

Creek Sedge

Carex radiata-

Eastern Star Sedge/Straight-Styled Wood Sedge

Carex blanda-

Common Wood Sedge

Carex rosea-

Golden Star Sedge/Curly-Styled Wood Sedge

Carex plantaginea-

Plantain-leaved Sedge

Carex shortiana-

Short's Sedge

Carex sprengelii-

Long-Beaked Sedge

Wet

Carex bromoides

–

Brome-like Sedge

Carex amphibola-

Creek Sedge

Carex blanda-

Common Wood Sedge