We love to celebrate the beauty of native plants even in winter when most of us keep them standing for biodiversity and beauty. We're sharing the winners of the contest in this post. Members, be on the lookout for our holiday card that features the winning photo. In the meantime, enjoy these beautiful snapshots.
As winter approaches, we hope you'll join in for next year, grab some pictures that capture winter's beauty, and submit them for the contest. Keep an eye out for those magnificent mini-moments and share them with others 🙂
Winning photo:
Umbreen Qadeer captured this beautiful photo of a Butterflyweed seed pod.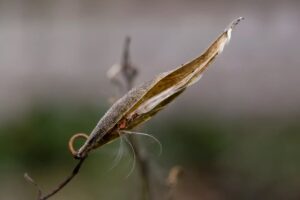 Runners Up:
Cathy Street took this photo that shows how "it's always so beautiful to look out at the habitat left standing after a sticking snow in this leave the leaves, stems, small branches, garden-gently yard."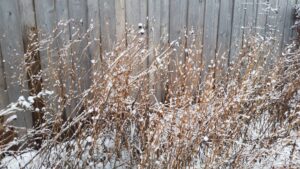 Susan Subak titled this photo "Jens Jensen Vista I," which she took at Columbus Park Lagoon during a "winter golden hour." The photo features Prairie Dock.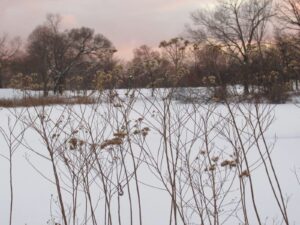 Julieta Aguilera "planted this Hamamelis shrub about two decades ago, and it blooms in February every winter in our yard, though last year it bloomed in January. The yellow petals contract under the snow and uncurl on warmer days. This picture was taken with an old macro lens held against a mobile phone. You can see the snowflakes at this scale."