Want to Help Spread the Word about Native Plants?
We have developed presentations and materials for community groups who would like to learn about native plants, their roles in the environment, and how to use them in their landscapes. We are also working on materials and lessons to share with schools. Our presentations are Wildly Beneficial: Native Plants as well as Fall Preparation in the Native Habitat Garden (discusses the rational for avoiding traditional clean-up and tips on maintenance and creating new gardens in the fall).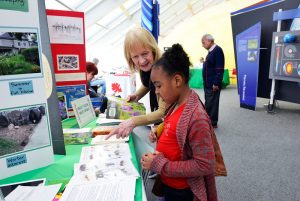 We can also help with planning your organization's garden or point you in the direction of landscapers who know their native plants.
---
Community Outreach 2017
West Cook Wild Ones had a busy and exciting March! We participated in the following events:
03/04/17 & 03/05/17 – Hometown Habitat
Premiere screenings at the One Earth Film Festival Triton College and at Peggy Notebaert Nature Museum. Filmmaker Katherine Zimmerman spoke about her film and the West Cook Wild Ones tabled at both events. Over 125 viewers, some of whom came from Northern Wi and IN for the screenings.
03/23/17 – Monarch Butterfly Habitat Field Museum/Chicago Wilderness
The Chicago Flower & Garden Show this habitat was designed to educate about the life cycle of Monarch butterflies with a $2.00 donation that went towards saving the Monarch. We tabled at the event and gave out Asclepias incarnata Rose Milkweed seed packets provided by the Field Museum. We reached out to over 50 people.
03/35/17 – Chicago Community Gardeners Conference
The Breakthrough FamilyPlex Theme: Gardeners Grow Communities. The West Cook Wild Ones tabled at the event. Over 250 diverse gardeners from all across Chicago attended the Conference and we met quite a few of them.
04/22/17 – 18th Annual Percy Julian Symposium
Oak Park & River Forest High School
The Percy Julian Symposium is a high school-level science event given in honor of Dr. Percy Lavon Julian. Students participating competitively will orally present PowerPoints of their science or engineering research. Students participating non-competitively will orally present at a display board. See the following for more details:
https://sites.google.com/site/percyjuliansymposium/
04/22/17 – Oak Park's Earth Fest
Oak Park, IL Public Works Building
Earth Fest is the the Village's annual celebration of green living and learning. Held each year at the LEED® Gold-certified Public Works Center, the event focuses on green neighborhoods, sustainable lifestyles and best practices. Highlights include eco-friendly vendors, local chefs and restaurants, games and activities for children, items for sale, and entertainment. In addition, recycling booths will be available for eyeglasses, sun glasses and hearing aids. For more specifics: http://www.oak-park.us/village-services/refuse-recycling/earth-fest
04/29/17 – Wild Wood Nature Center
Park Ridge
Re-purposed Project Fair, dance to live music, discover live birds of prey and creatures big and small in the animal show, shop at eco-friendly vendor booths, learn from "green" organizations, give Smokey the Bear a high five, and rope climb up a tree. Be sure to take part in the raffle, help judge the Re-purposed Project Fair, devour some delicious food and drinks, and drop off gently used items to be reused or recycled. For more information:
http://www.prparks.org/Events/List/ArtMID/964/ArticleID/222/Earth-Day-2017
Please see the following link to sign up for the events:
http://www.signupgenius.com/go/5080c4da4af2aa02-earth1
Community Outreach 2016
We were busy in 2016. We love getting out there and sharing our love for native plants. These activities are beyond our monthly programs.
Feb 2016: We presented to PlanItGreen's Lunch and Learn in February and again in April. For both events, we discussed the benefits of native plants and how institutions and organizations can join our Wildlife Corridor.; Final Pitch Party for the Oak Park River Forest Community Foundation's Big Idea Contest
March 2016: Tabled at One Earth Film Festival's screening of Inhabitat: A Permaculture Perspective. Tabled at LaGrange's Sustainability Fair. Stephanie along with Emily Minor, UIC Ecology Professor, held a workshop "Pollinator Power" for D97's Young Scientist's Conference. Pam and Katarina presented to Oak Park Temple "Wildly Beneficial"
April 2016: Tabled at the Adler Planetarium for their Earth Day Celebration in partnership with WBEZ; Pam Todd presented at Dominican University about native plants and at a Lunch and Learn for Schools. Sponsored a special viewing of Symphony of the Soil at North Riverside Library
May 2016: Tabled for Springfest at Trailside Museum; Stephanie presented to Fredrick Law Olmstead Society (video here: Rethinking Your Lawn) and to the OPRF Rotary Club. We also tabled for Green Days at the Oak Park Farmer's Market on May 21 and 28th. Assisted with local schools' new gardens (Holmes and Mann).
June 2016: Tabled at Chicago Botanic Garden's World Environment Day, Green Days at Oak Park Farmer's Market, Farmer's Market in Berwyn. Native plant garden installed at Ascension church.
July 2016: Marched in Oak Park's 4th of July Parade, handed out materials, seeds, and even some milkweed seedlings, July Social Gathering at Oak Park Conservatory, First Show-Me Help-Me, handed out brochures at Ascension Church's native garden which was a stop on Sugar Beet Co-op's Garden Tour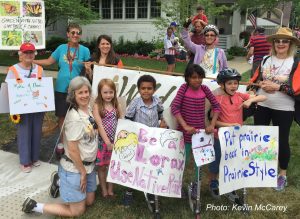 August 2016: Show Me-Help Me with Ginger at Good Shepherd Church, consult with Brooks Middle School and Rush Hospital regarding plants for their new gardens.
September 2016: Assisted with Brooks School Garden planting, Show Me-Help Me at a member's house, help with Rush's "Healing Garden"; participated in Monarch Celebration at Trailside; Chicago Living Corridors Launched (and MacArthur Grant submitted written by Art Smith, board member) (Pam Todd WCWO President and Art are both on the board of CLC). Supported Green Community Connections with its Fall Tree and Shrub Sale
October 2016: Presented WCWO's program "Wildly Beneficial," an introduction to native plants, to a Dominican University class
---
2015
Recently we had the honor of talking about our work and the connection between native plants and biodiversity with an absolutely wonderful group of students at Dominican University. They researched and studied the land behind Parmer Hall and created designs to change the landscape from one dominated by lawn to one that will be beautiful and life-giving and support their honeybee hives as well as the other pollinators. They also have a vision to draw the entire community into the gardens. What a great opportunity for them to apply their learning in an authentic way. Here are these wonderful young people presenting their inspiring projects. Don't you just feel so hopeful for the future?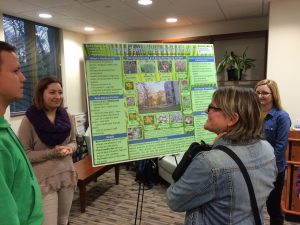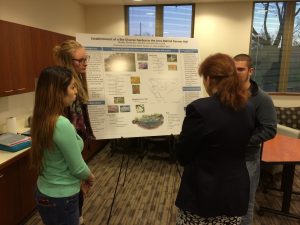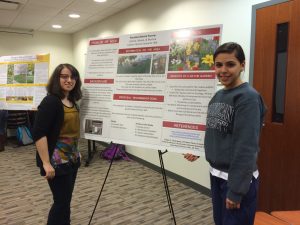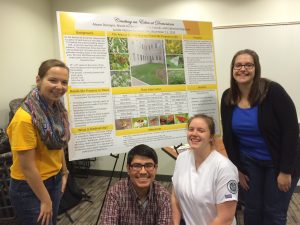 ---
2014
Photo in featured image: The art we produced for River Forest Whole Foods in April 2014 for their Earth Month display in partnership with Jocelyne Adkins. It was a four part display featuring the life cycle of the Monarch and how humans can help to ensure their survival. Children created Monarchs and added to the last panel featuring the Oyamil Firs which the Monarchs use to overwinter.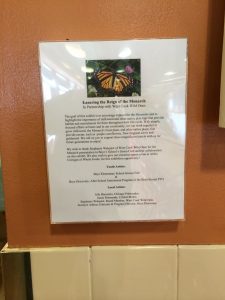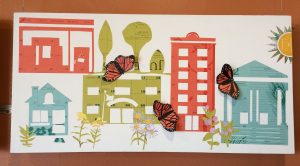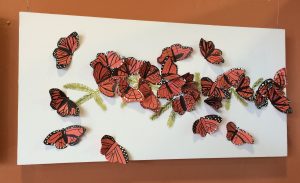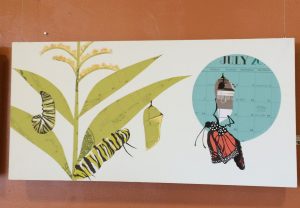 We participated in last year's Oak Park's Diversity Parade, and our theme was to bring back the biodiversity; we had fun distributing materials, seeds, and even some seedlings of Rose Milkweed and Purple Prairie Clover. Photos courtesy of Kevin McCarey.