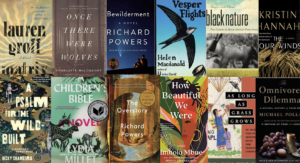 Looking for an environmentally-themed book for your next read? Below are some of our board members' recent reads.
Fiction/Poetry:
A Children's Bible by Lydia Millet. Climate change allegory through the eyes of young people
A Psalm for the Wild-Built by Becky Chambers. An interesting take on the future when humanity decides to separate from factories and robots in order to lead a more sustainable existence.
Bewilderment by Richard Powers. A professor struggles with raising a neurodiverse son who is consumed with preventing environmental destruction and animal extinction.
Black Nature: Four Centuries of African-American Nature Poetry edited by Camille T. Dunghy, Spotlights the connection Black poets have with nature, often missing from canonical poetry texts.
How Beautiful We Were by Imbolo Mbue. Novel illustrates an oil company's impact on a village's social and economic systems.
Matrix by Lauren Groff. While not outwardly environmental, the narrator inserts commentary about what the abbey's expansion means for the surrounding landscape and wildlife. The expansion directed by the main character is both laudable as it gives her nuns power and independence but also typical of how our actions have unintended consequences for the other animals.
Migrations by Charlotte McConaghy. Beautifully written, sad and hopeful novel
Once There Were Wolves by Charlotte McConaghy. A researcher goes to a town in Scotland to oversee the re-introduction of wolves to a protected forest in order to support its regeneration but the efforts are fraught by her own personal history and an antagonistic sheep-farming community.
Overstory by Richard Powers. Epic novel telling the story of multiple people trying to save Redwoods.
The Four Winds by Kristen Hannah. Follows a young woman as she leaves her upper-class family and marries the son of a farmer where she finds happiness and belonging until the Dust Bowl hits, and she migrates to California for a better life, only to face xenophobia and dehumanization.
The Ministry of the Future by Kim Stanley Robinson. One of the best "cli-fi" writers around, here Robinson is at the top of his game writing about the world of the near future. Though there are calamities, it is a book that is oddly optimistic as it shows how people around the world work on solutions (including ecosystem repair) which, over time, begin to work.
Where the Crawdads Sing by Delia Owens. Beautifully evokes a time past in Florida before all the development and is a page turner at the same time.
Nonfiction:
A Healthy Nature Handbook-Illustrated Insights for Ecological Restoration from Volunteer Stewards of Chicago Wilderness edited by Justin Pepper and Don Parker. A local work-practical advice on restoration-fun to read even for a sporadic restoration volunteer-with illustrations by local artists including Kathleen M. Garness
A Natural History of the Future: What the Laws of Biology Tell Us about the Destiny of the Human Species by Rob Dunn. This book gives an introduction to the natural laws that undergird ecosystems, talks about how species adapt to change and points out how humans will have to work with nature if we expect to thrive in the future. Well written.
A New Garden Ethic: Cultivating Defiant Compassion for an Uncertain Future by Ben Vogt. Blends environmental writing and psychology of climate change Vogt makes the case for changing the way we landscape.
As Long as the Grass Grows:

The Indigenous Fight for Environmental Justice, from Colonization to Standing Rock

by Dina Gilio-Whitaker. Gives the missing history of Indigenous people's fight for land justice.

Beasts Before Us: The Untold Story of Mammal Origins and Evolution by Elsa Panciroli. How did we humans get here? It started in deep time–300 million years ago during the Carboniferous period. Panciroli not only describes the twists and turns of mammal evolution, but makes stops at different sites around the world, including the CERN laboratory in Switzerland where the particle collider is used to "read" fossils too small and fragile to study any other way. As a bonus, marvelous black and white illustrations depict the wild and wonderful creatures that roamed so long ago.
Beauty of the Wild: A Life Designing Landscapes Inspired by Nature, by Darrell Morrison. In this beautifully photographed book, one of the great contemporary landscape designers describes his life and discusses his innovative projects. Jens Jensen and Aldo Leopold were major influences.
Entangled Life How Fungi Make Our Worlds, Change Our Minds & Shape Our Futures by Merlin Sheldrake. Nonfiction-all about fungi including life cycles, role in ecosystems, and human use of them.
Finding the Mother Tree by Suzanne Simard. Autobiography, forest ecology, & conservation.
Omnivore's Dilemma by Michael Pollen. A deep dive on our food systems
Vesper Flights by Helen McDonald. Gorgeous philosophical essays on a variety of natural topics.
What Kind of Ancestor Do You Want to Be? Edited by John Hausdoerffer, Brooke Parry Hecht, Melissa K. Nelson, and Katherine Kassouf Cummings. A compendium of essays, interviews, stories and poems by a variety of writers from diverse backgrounds and cultures. A book to be picked up and savored over time.
Old favorites: We recommend anything by Robin Wall Kimmerer, Aldo Leopold, Heather Holm, and Doug Tallamy too.