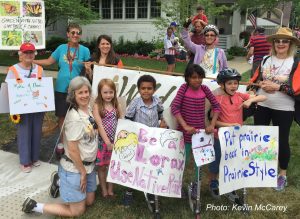 Joining Wild Ones West Cook chapter turns your concerns of biodiversity and sustainable environmentalism into local action. In 2020 alone, our plant sale brought native plants to 366 gardens, despite the pandemic. Our monthly programs and conferences spread awareness of native plants' benefits and offer expert insights for experienced gardeners and nature-lovers. Through our grant programs, children in schools and youth groups of the community are getting an early start in native plant gardening. Plus, as a member, you will get discounts on plant sale purchases and conference registration.

One more reason to join today.
New members joining by January 10, 2021 will be entered into a raffle. The winner will receive their choice of a paid membership (Household-level refund) or a new 55-gallon black rain barrel. Join today and join us at our January 17th membership meeting, where we'll announce the winner.

Wild Ones is a 501(c)(3) nonprofit organization. Your membership is tax deductible. Join at the national level and choose West Cook as your chapter.