Home gardeners, landscape designers, and conservationists gathered at Triton College last week for West Cook Wild Ones' The Naturally Beautiful Garden Conference.
Speakers Claudia West and Benjamin Vogt addressed different facets of native plant gardening, at times in stark contrast. West addressed aesthetics of a landscape and the emotions it evokes. Vogt struck a note of environmental activism. Asserting that plants are not art, he sees gardens as a places of social justice for all species.
West is principal of the landscape architecture firm Phyto Studio. She described three archetypal landscapes: forest, woodland, and meadow. In each, she illustrated concepts of legibility on a large scale and diversity on a small scale. Legibility has to do with plant layers and our view across a landscape. A forest with a cathedral canopy and ground-cover plants, for example, helps us feel more comfortable than one with wild, overgrown shrubs. A meadow with plants knee high or lower offers more legibility than a tall grass prairie.
West invited the audience to interpret and amplify nature, while acknowledging the challenge of bringing it to the smaller scale of a yard. The courtyard of the New York Times headquarters building, which suggests a Birch Forest, shows it can be done. West encouraged the use of green, demonstrating the harmonious variations in its shades. Then as an accent, she suggests elevating the visually dominant plants, such as massing cardinal flowers or golden alexanders. As an answer to concerns that native plant gardens may be too much nature for some, she suggested creating orderly frames around beds using benches, hedges, or short fences.
Whatever your neighbors' think of it, Vogt was clear in his message that we must garden for biodiversity. An environmental activist, writer, and garden design consultant, he advocates for native plants as an ethical choice. Sharing unsettling statistics on the loss of global wilderness and forecasts of mass extinction, he noted that humans are colonizers, exercising domination over nature. We must do our part to revive wilderness, starting at home. He posed the questions: Why do we garden? Who do we garden for? And what does it mean for the future of the species? Traditional gardens, planned for attractiveness to people, look nothing like what we see in a purely natural area and don't help animals. Vogt calls on us to garden as protest, in defiant compassion.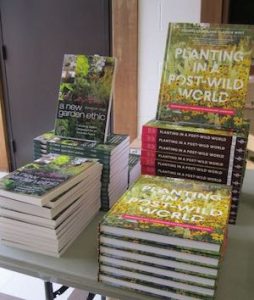 Want to learn more? Claudia West is co-author of Planting in a Post-Wild World. Benjamin Vogt is author of A New Garden Ethic: Cultivating Defiant Compassion for an Uncertain Future, writes a monthly email newsletter, and posts articles and more on his website Monarch Garden.