Welcome!
---
Living Landscapes Conference
What an inspiring, uplifting event the conference was! Over 300 attendees were alternately moved, awed, and amused by Dr Tallamy's presentation, and then the workshops kept up the momentum and tone of Tallamy's talk.   We also heard from people who are now continuing that momentum into their own yards and even into their larger communities.  We cannot articulate how much this means to us; it will continue to drive us forward.
Thank you to all of you for attending the event and for your own continued dedication to creating more native gardens that continue to support the biodiversity we all need in so many ways.  Please feel free to drop us a line about what you learned from the conference, and while we understand that we need to use a different system for the registration process if we host another conference, we'd welcome any other constructive feedback at westcook@outlook.com.
To get the most up to date information about our other programs (our monthly educational programs are free and open to the public), sign up for our newsletter: Newsletter link.
If you missed the conference and want to learn more about what you missed, read Tallamy's New York Times Op-Ed piece: The Chickadee's Guide to Gardening.  He has a wonderful site too: BringingNatureHome.net.
---
About Us:
Who we are:
West Cook Wild Ones was formed by a group of people who felt the time was right to have a coherent voice about the importance of biodiversity and how to support it in an urban landscape outside the city of Chicago. All of the founding members had been involved with environmental issues for most of their lives and had also been involved with gardening.  They thought the need to combine these two issues had never been more pressing, and action was needed.
For too long, we, as a society, have given little thought about how our yards and gardens affect other living organisms; little concern about the interconnection between yards/gardens to natural ecosystems has been felt among gardeners, landowners, landscapers, and perhaps even conservationists.  We have all thought that our yards were disconnected spheres where nothing ventures in or out, except perhaps conservationists understand how invasive species make their way into the natural areas.  But what about when species of concern leave the conservation areas?  We think the time is now to extend the conservation areas into our yards, and to mimic our surrounding ecosystems as much as we can.
What we do:
West Cook Wild Ones seeks to educate the landowner about how important their landscaping choices are.  Do we want to prevent more invasive species from decimating natural ecosystems and driving plant and animals species to extinction? Do we want our yards to be hospitable to other animals?  Do we want to continue to derive ecosystem benefits from healthy, beneficial animal and plant populations?  How can we help our ecosystems so that human life can be sustainable?  All of the answers are yes for us, and we are passionate about doing what we can to reverse current environmental trends.
Our activities:
How do we do this?  We have monthly programs that educate the public about our native ecosystems, native gardening, and other related topics.  We have a native plant sale, which helps people get ethically sourced and sustainably grown plants from local growers at a great price.  We have a vigorous Facebook presence which offers pictures about what's happening in local gardens as well as scientific articles that connect to native plants and biodiversity.
We have cooperated with local organizations to plant new native gardens and have donated plants to these organizations and to area schools. If you know of a non-profit or other governmental organization that is interested in a native plant garden, contact us at westcook@outlook.com, and we can coordinate something for you.
We have plans to make our website even more of a resource and a repository of information that is locally relevant, usable, and reliable.   Moving forward into our second year, we hope to have Show Me/Help Me's which are informal mini-tours that have members visit, learn, and share knowledge. Our wildlife corridor we hope to make more of a reality as more native gardens are planted, and our vision of a bridge between Columbus Park and Thatcher Woods comes to fruition in the next couple of years.  The corridor will help birds, bees, and butterflies to increase in numbers and to disperse as needed.  We look forward to increased life and beauty in the future.  May all of our children experience the wonder of Monarchs, Luna moths, ladybugs, hummingbirds, and other winged wonders over their lifespans and the lifespans of their children and so on.
Plant a native garden and leave a love letter to future generations.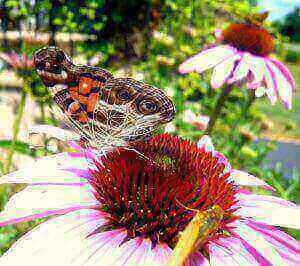 _____________________________________________________________________
 Want to help WildOnes?
WildOnes is a 501c(3) Not for profit organization..
Together we can make a difference by creating a wildlife corridor and providing habitat for the species that need our help.

____________________________________________________________________