Date/Time
Date(s) - 02/20/2022
2:30 pm - 4:00 pm
Location
Online link to be provided
Categories
Learn How to Create Lasting Change to Benefit Pollinators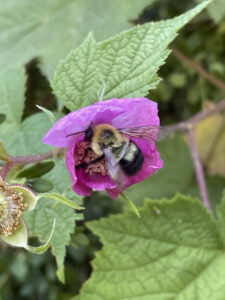 Please join us for
Damon Hall
Sunday, February 20, 2022
2:30 pm CT
Native plant gardeners use their own backyards to create habitat for pollinators and to make a small positive impact on the global environmental crisis. Ever wonder what would happen if we could extend our impact to include more backyards by enacting laws to benefit pollinators? Damon Hall can help us to begin to take action beyond our home landscape.
Damon Hall will talk to us about why pollinator laws matter, what kinds of state pollinator laws already exist, and how we can initiate action on a local level to inspire changes in ordinances which often stymie pollinator conservation and native plant gardeners.
This program is free and open to the public.   Register Here on Eventbrite
Speaker Information
Damon Hall, PhD, Assistant Professor at the University of Missouri in the School of Natural Resources.
Research Description: My research examines the interactions between social and ecological systems where science, policy, and culture meet. My research is audience-focused addressing questions of how to make usable knowledge for sustainable transitions. My research is transdisciplinary in that it engages stakeholders, managers, and scientists to design transformational solutions that make sense to how people—whose behavior is the target of policy—commonly experience their world.
For more information please visit his webpage : Sustainability Science Lab